Dombivli East - Perfect Spot For Residential Property Investments
Dec 09, 2019
Shweta Yadav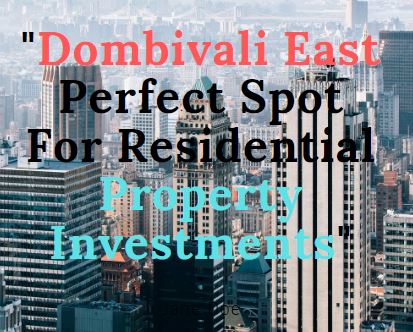 Dombivli East is a town in Kalyan, located in the peripheral central suburbs of Mumbai Metropolitan Region (MMR). It is strategically located at a distance of 20kms from Thane. It is surrounded by Kalyan, Badlapur, Ambernath, Bhiwandi, Shahapur and Neral. Dombivli (E) micro-market is deemed to be one of the most promising residential real estate markets in MMR. In Q2 2019, Peripheral Central Suburbs accounted for most of the sales in MMR constituting approx. 32% of overall sales volume, making them stand way ahead of Navi Mumbai and Thane. Dombivli has recorded highest sales of 1BHK Flat in Marathon Nexworld Mumbai. The residential real estate market of Dombivli has seen a significant decline in unsold inventory which is a good sign for both end-users and investors.
Dombivli (E) is primarily a residential area but is surrounded by various pharmaceutical, chemical and textile industries too. In the past few years, Dombivli has managed to attract a lot of big companies to establish their industries and offices in the vicinity. Various real estate moguls and quality players of varying stature are also showing their interest in the micromarket and are coming up with several residential RERA projects in Dombivli East which has provided a fillip to the property market in the region. With the excellent connectivity via roads and railways, announcement of some major infrastructural developments in the area, relatively lower property prices than in Mumbai and proximity to Mumbai, Dombivli (E) emerged as the most compelling real estate investment destination among all the peripheral central suburbs.
Kalyan-Dombivali region has been shortlisted under the 3
rd
list of Smart City Mission, a flagship scheme by the central government under which it will, in collaboration with the state government of the respective areas, grant funds for the redevelopment of that particular area to make it citizen-friendly and sustainable. There are several infrastructural projects in the pipeline that promise a remarkable boom in the real estate market and thus, providing a lucrative opportunity to buy a
property in Dombivli East.
Dombivli (E) has been bestowed with world-class social amenities. It is surrounded by schools, colleges, hospitals equipped with all modern facilities, entertainment hubs, retail stores etc. All these places are capable of fulfilling your daily needs.
Property prices in Dombivli(E) has seen an uptick in the past few years. Price trends will continue to witness upsurge owing to improving social infrastructure, upcoming developments, enhanced connectivity, proximity to Mumbai and lower property rates than in Mumbai. People who want to live in Mumbai but can not afford homes there prefer to settle in Dombivli because residential properties in Dombivli lie mostly in the affordable range.